You can use the Note forms to enter research notes as you are working on a paper, to categorize excerpts and comments you find in source works: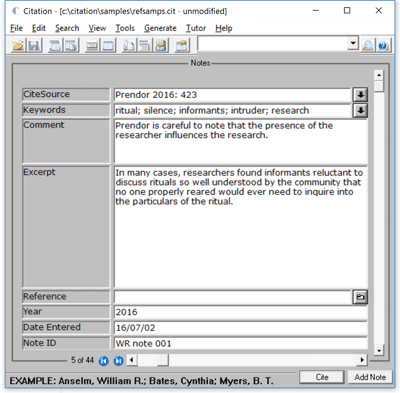 To add a note record:
Enter or locate the bibliographic record for the source work.
Click the Add Note button.
You can enter as many note records from a single source work as you need, and up to 10 pages of text in each note record. (We recommend that you keep the notes to a paragraph or so - this will make it easier for you to group similar notes on a topic.)
Additional Note forms in Citation can be used for any kind of textual data, such as excerpts, comments, and transcripts.
For details on the different types of information in the example record above, see the general guidelines for entering note records.
Citation recognizes Note forms as records containing textual data you might want to include in essays you are writing. When you click the Cite button on the Short List, Citation transfers the excerpt, along with a Cite key for the note, to your paper.
More information in the QuickStart Handbook on using Citation to organize research notes. We highly recommend that you browse through the Handbook, even if you are just reading through the exercises. This will give you an excellent overview of how to incorporate Citation into your reading and note taking.
How to use Citation
Add a research note record
Guidelines for entering note records
Note forms
Include notes in your paper
Print notecards for all the notes you've collected
Print notecards for your notes on a specific topic

---