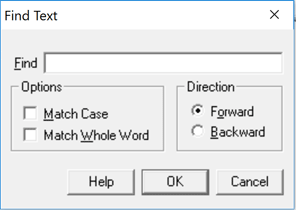 The Find Text dialog allows you to quickly find and highlight text in your records.
The following options are available in the Find Text dialog:
Match Whole Word
Check Match Whole Word if you want to match complete words.
For instance, if the text to match is ritual: checking Match Whole Word will find the word ritual set apart from other words by spaces. Citation would find ritual, but not ritualistic.
If Match Whole Word is not checked, Citation will find the characters in the word ritual, but it will not check to see if ritual is a word by itself. Citation would match the following terms to ritual: ritual, ritualistic, ritualism, rituals, anti-ritual.
Match Case
Check Match Case if you want to search for terms with capitalization matching the text you have entered.
For instance, if the text to match is Ritual, the program would match Ritual, but not ritual.
Direction
You can search either forward or backward through your datafile.