To cite a source work you have entered into your Citation datafile

As you are writing, position the cursor in your word processing document*, where you would like to place the Cite key for the source.
Locate the work in the datafile, and click the Cite Current Record button.
Citation will display the Cite dialog.
Enter a specific page reference, if that is appropriate, and click OK to insert a Cite Key into your document.
*To create a blank word processing document for your paper with the margins, page headers, etc. preset for APA or MLA style, with "place markers" to indicate where you should type your name and the title of the paper, click File, Document Templates, and choose one of the document templates.
To write the references for your document, see Generate Citations.

Sample document with Cite Keys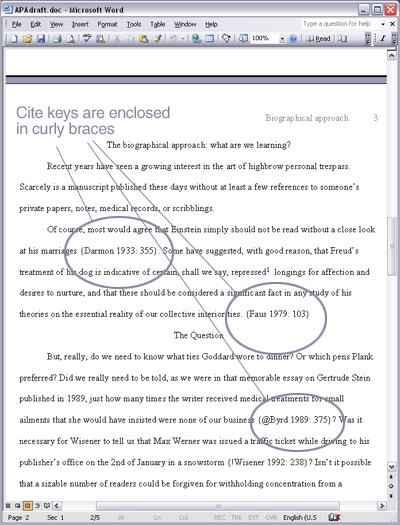 ---