With Citation 9, it is no longer necessary to manually enter specific page references for your cite keys.
When you click the Cite button on the Short List, or the new Cite Current Record button on the Main Edit screen, Citation displays a Cite Dialog: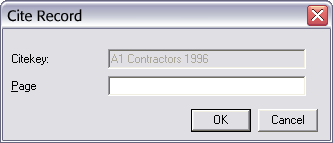 Enter the specific reference, and click OK to insert the Cite Key into your document.
If there is not a specific page reference, leave the text box blank.